The hardest part of installing or removing a SIM card can be finding where it lives in the first place.
If you have the instruction manual handy, it will tell you specifically for your device model.
If you don't have the manual handy, it's probably in one of these places:
The Hidden Outside Slot


Some smartphones such as the iPhone series or the newer Samsung phones feature SIM-card slots on the outside, so there's no need to take the back off.

However, you may need to use a small tool that looks a bit like a blunt pin to push the SIM holder out. The tool should come with your phone when you receive it.


iPhone SIM tray location Samsung SIM tray location


The slot holder can be found around the edge of your smartphone like above and will have a hole. Put the tool into the hole and the holder will pop out, allowing you to place your SIM card inside and put it back in. Just make sure you keep the tool safe.





Behind the Battery


The majority of older phones have their SIM card slot behind the battery.




Remove the phone's outer case and take the battery out. Look for an empty slot and a SIM card icon.





If it's something like the slot above, all you have to do is lay it flat and slide it behind the small metal bar. Ensure that your SIM card is facing down so that the circuit touches the metal pins on the phone.





Next To The Battery


Some SIM card slots can be found near the battery, which will require you to remove your phone's outer case and the battery to fit it in.

As you can see in the image above, you're looking for a small slot where the SIM card can fit. Make sure you push it in so that the circuit can touch the metal pins. Usually the perfectly straight part hangs out of the bottom until you put the battery back in.
Important, don't get confused with the microSD slot.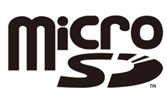 The microSD slot (usually labelled with the above logo) is for microSD cards which you can use to expand your smartphone's storage capacity for pictures, apps and more.
The SIM card and microSD card have nothing to do with each other, but you may get their slots mixed up as they look quite similar.